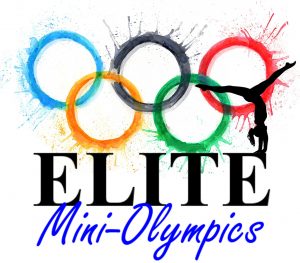 MINI-OLYMPICS
at Elite Gymnastics Center & Elite Ninja Warrior- will not be held in 2022
This event is a great opportunity for your child to show off everything they have learned this year in gymnastics or ninja.
Each Child receives a trophy.
Family and friends are invited to cheer them on!
    Door Admission        $10 Adults        $5 Child
ON THE DAY . . . Arrive at your scheduled time, dressed and ready!
Slip & Payment due - TBD
Entries After this date will have a late fee of $10
TEAM MEMBERS
All competitive and non-competitive teams
Gymnast Entry Fee is $40 
THERE IS NO PRACTICE FOR TEAM MEMBERS THE DAY OF THE MINI-OLYMPICS
CLASS MEMBERS
All Boys & Girls in 1 hr, 1.5 hr, & 2 hr Gymnastics and Ninja Students
(Mini-Olympics is not open to students in Someone Special & Me)
Gymnast Entry Fee is $35                Optional Elite Gymnastics Leotard available $55
Optional Ninja T-shirt $20
Saturday classes continue as scheduled