Want to be a NINJA like on the amazing TV show American Ninja Warrior?
Courses Include:
Warped Wall                                          Cargo Net
Rope Climb                                            Quad Steps
Trapeze Bar                                           Ring Swings
Balancing                                               Rock Climbing
Running and so so much more!
2018
SUMMER 2018  July 9 – Aug 24
Classes in the Summer are scheduled ONLY Monday – Thursday
We are CLOSED Friday – Sunday
SUBJECT TO CHANGE
Boys & Girls Ages 5 & up
Monday
Tuesday
Wednesday
Thursday

5:00-6:00

5 -7 yrs

5:00-6:00

5 -7 yrs / 8 & over

6:00-7:00

5 -7 yrs / 8 & over

5:00-6:00

5 -7 yrs / 8 & over

 6:00-7:00

7 years & over
Monday - Thursday
9:30am - 12:30pm
Boys & Girls 6 & up
$45 per day
*Must Register at least 24 hours in Advance*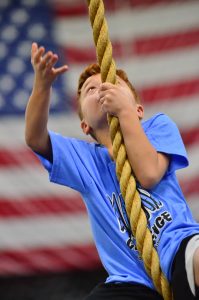 Ninja Attire – Shorts, sweatpants or leggings with tight fitting top.  Shoulder length hair has to be put into a ponytail.  No jewelry allowed in gym. All children should have bare feet
Make-ups—Maximum of 3 make-ups per session.  These classes must be made up before the session ends.  Please schedule in advance at the office.   Student must pick up a make-up card at the desk before entering the gym
Trial Classes—We offer a "no obligation" trial for new students.   Students register for the class.   If after the first class the student does not want to continue inform the front desk and there is no charge.    Student must pick up a trial card at the front desk before going into the gym and there must be a registration form on file.
Tuition– The Summer session is 7 weeks.  Summer Tuition must be paid in full BEFORE the session starts.
Autopay – Autopay is available – YOU MUST SIGN UP AT THE BEGINNING OF EACH SESSION AT THE FRONT DESK.  We will not debit your credit card on file unless you have completed the auto pay form at the front desk!